Our Features
Point1 Mold design / manufacturing proposal from the perspective of the molding process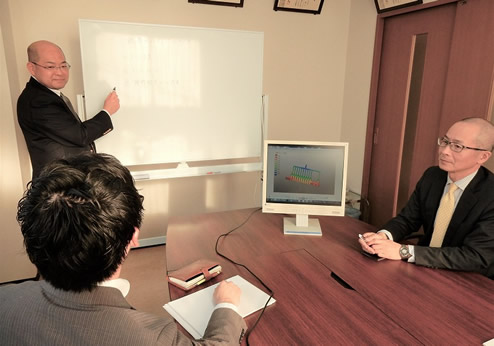 It is said that product development costs are determined 70% or more at the design stage. In addition, most of shape accuracy and quality stability are determined not at the molding stage but at the design stage. For these reasons, Shinwakogyo ​​puts importance on VA / VE proposals from the design stage to development designers more than contract processing of molding.
Shinwakogyo has the abundant experience of realizing VA / VE together with development designers, such as improving the functions of customers' products and improving the price competitiveness of the market, while maintaining the functions fulfilled by the parts that make up the product.
Please feel free to contact us If you are looking for a way to reduce the development cost of new medical plastic products or to reduce the total cost until mass production.
Point2 Approval for Marketing Medical Devices / Registration for Manufacturing Medical Devices and ISO13485 Certification
Shinwakogyo has been manufacturing various plastic molded products with quality first since its foundation.
During the activities, in 2005, a specialized custom-built M / C was deployed to manufacture medical plastic products. Around this time, customers in the pharmaceutical and pharmaceutical industries dominated at Shinwakogyo. Therefore, in 2007, we obtained the medical device marketing approval (Registration of medical device marketing in 2017) in order to be entrusted with plastic molding from customers who have the medical device marketing approval.
Moreover, we obtained ISO13485 certification in September, 2019 as the proof of the management system required for medical equipment. Although there are few plastic molding manufacturers that have acquired ISO13485 in Japan, Shinwakogyo has now acquired this certificate as the proof of trust and reliability that customers can associate with confidence.
And we have accuired the second-class marketing license for medical devices. In this way, plastic molding for the medical industry has become more important than ever before, and now it can handle both hygiene and sterilization processes.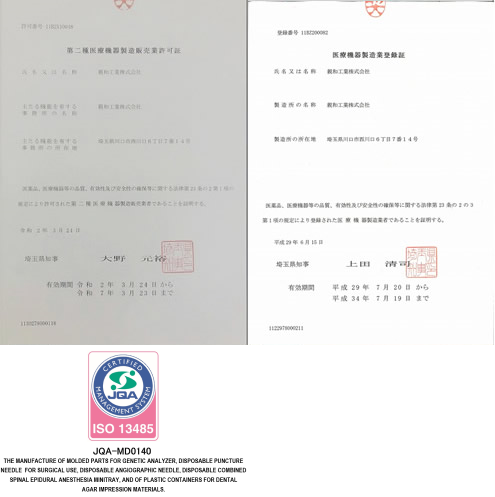 Point3 Clean Rooms at or Below Class 10,000, and the state-of-art moding machies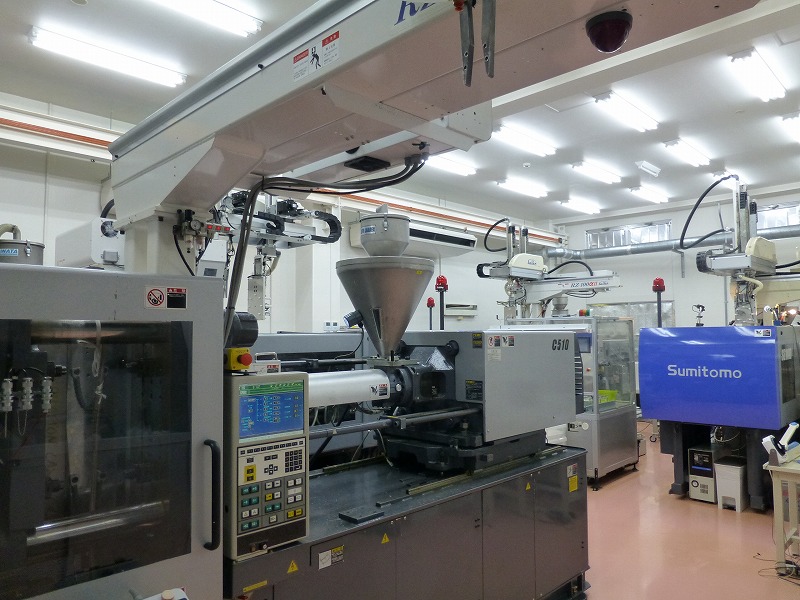 In order to always provide customers with safe and secure quality plastic products used in medical equipment, we have a clean room of less than 10,000 class in our company. The structure of the clean room at Shinwakogyo is triple filter structure to achieve high cleanliness. The high purity air taken in by this triple structure filter is designed to create a positive pressure inside the clean room. Furthermore, a person to enter into the room must go through the air shower room, so that dust and dirt attached to the person do not enter the clean room, realizing a stable class 10,000 environment. By installing state-of-the-art molding machines in a clean room with these sanitary conditions, we have established a production system that can meet the high quality demands of customers in the medical and pharmaceutical industries.